Favicons: an example of OEM customization options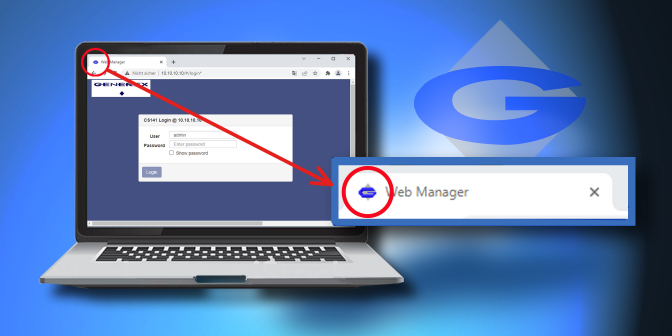 As this example shows with a CS141 / BACS WEBMANAGER, a favicon can be integrated without further ado.
Our Service for OEM Partners - FAVICONs
As our OEM customer, you already enjoy access to numerous customization options useful in the adaptation of a GENEREX product into your OEM product line.
As a special service, we will now add your company logo as a standard favicon!
The favicon is a small symbol that serves to make a website uniquely recognizable. It is usually a simplified form of a logo or a graphical symbol, which is displayed next to the page title in the browser tab:

By default we thus will provide an OEM-specific "favicon" to be displayed on your OEM support page and software browser tabs. It's just one more bit of customizable "flair" which we'd like to make available for you!
If you wish to alter or otherwise designate a different image on behalf of your company as OEM representative, please send any corresponding files or templates to our Marketing colleague:
Mrs. Martina Kohlstruck - m.kohlstruck@generex.de
As of firmware 2.06, we will equip all CS141 and BACS units of our OEM customers with FAVICONs - we look forward to your input should you desire some other specification.