Combined current sensor for BACS and SENSORMANAGER:
New Hall-effect current sensor for the measurement of DC and AC Ripple
The new series of our current sensors, BACS CSHxxxx, replaced the sensors previously used by us BACS CSxxx. The range of sensors includes 50A, 200A, 400A, 1000A, and 2000A. All BACS CSHxxxx sensors are now "split-core sensors." The older sensor required the battery cables to be disconnected and route through the sensor. The new sensor by simple hinge technique is much simpler making retrofitting a cinch.
Not only is the new providing easier installation but the new sensors, in addition to the DC measurement, now also provide an AC ripple measurement. Ideally, there should be no alternating current (AC) on a direct current (DC) battery system. However, it is "redirected" at a UPS from AC to DC because the battery can only use direct current for charging with different charging curves (depending on the chemistry). In this conversion from AC to DC, it is usually generated "pure" DC with the higher frequency range, still, a small AC component is measurable. Due to aging capacitors in the charger located in the UPS, it is possible that AC ripple will be passed onto the DC bus.
If the capacitors are not replaced promptly the AC ripple can lead to damage to the battery. Since the determination of that 'AC Ripple"-alternating current was not previously included in most BMS systems, it was visible only by the rising internal resistances of damaged batteries. The cause of the damage was not detected. If the UPS is not properly maintained it will end up damaging the backup batteries and ultimately cause an unplanned outage. By using the new current sensor, BACS can indicate the proportion of the alternating current to warn the user against aging components or incorrect installation before its batteries are damaged.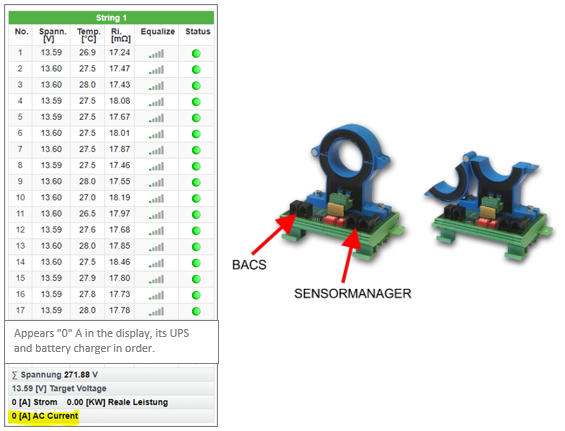 Item number:
BACS_CSH50 (50A), BACS_CSH200 (200A), BACS_CSH400 (400A), BACS_CSH1000 (1000A), BACS_CSH2000 (2000A)
Dual-use:
The new current sensor BACS CSHxxx has a two-fold function, it can be used in both BACS or SENSORMANAGER. Two sets of plugin adapters are located on the current sensor board. The left two adapters are for BACS and the right two adapters are for SENSORMANAGER. The changeover of the operating mode takes place automatically.