Available Now: "Low Cost" versions of all of our BACS WEBMANAGERs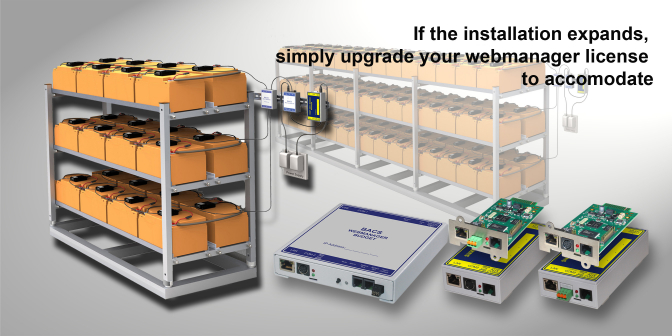 BACS WEBMANAGER for Telecom Systems and Emergency Lighting
Available immediately for all customers, GENEREX has introduced a cost-effective entry to its expansive range of BACS WEBMANAGERs.
The BACS WEBMANAGER is the most complex component of a BACS system and thus also the most expensive. As a compliment to larger battery systems the "full" version BACS WEBMANEGER's cost is hardly relevant; it's a compartively small part of the complete system infrastructure. The impact of this "full" price changes when only a small number of batteries require management, such as in the case of a Telecom DC application, for example, or for an emergency lights system.
BACS is a proven market sensation wherever batteries require sustained care and management, and this includes Telecom and emergency systems installations. In providing valuable feedback about their experiences, end-users and channel partners from these industries have lamented that the broad and powerful scope of our "standard" webmanagers is wasted on the relatively minimized array size associated with their projects, and thus the cost is not representative of their need. To these valued voices: we've heard you! After some internal investigation and implementation we are now pleased to offer the "BACS WEBMANAGER LC"!
This new "low cost" BACS WEBMANAGER is technically identical to its powerful cousins within the WEBMANAGER product family, but limited in application scope to a maximum of 24 batteries. If and when the number of batteries to be managed increases, the WEBMANAGER can be easily and seamlessly upgraded to its full potential with a one-time additional fee—the BACS WEBMANAGER LC can be "unlocked" via subsequentally purchased license key, which will then enable the WEBMANAGER to manage the maximum number of up to 500 batteries. The license key can be ordered directly from us-- similar to the CS141LC models—and is now available together with the delivery of the first BACS low-cost models.